Fall 2012
Greetings From Dean Bailey
Another beginning has come to Cal Poly. The upcoming year is my 44th on campus, and I'm really excited about it. The most important beginners, of course, are our 600 or so incoming freshmen and transfer students. I talked to most of them during WOW, and they're an impressive bunch.
Read the full message from Dean Bailey
Dean Bailey greets freshmen with a "Study 25/35 hours/week" magnet
as they file in for lunch during the Week of Welcome's Academic Day.
College of Science and Mathematics News
CSM Construction Moves Inside
Cal Poly's Warren J. Baker Center for Science and Mathematics looked like a different building every week this summer. Now, with the exterior glass complete and brickwork slated to be finished by the end of November, most of the excitement has moved inside. Walls are up and being painted; elevators are running; level six has the beginnings of a ceiling; and the beginnings of the terrazzo floors will be laid in the next week or so. The major duct work, plumbing and electrical are complete, allowing the air handling unit to be started up soon. Passersby will still be able to see progress as the concrete is poured that will shape the surrounding landscape.
View a slideshow of the latest construction photos
View a gallery of photos documenting the center's progress
COSAM Faculty Honored for Scholarship, Teaching
Three faculty members in the Biological Sciences Department earned universitywide honors for the 2011-12 academic year. All three were recognized by President Armstrong at Fall Conference. Chris Kitts received one of two Distinguished Scholarship awards. Matt Ritter and Emily Taylor both received the Distinguished Teaching award along with Umut Toker of City and Regional Planning.
Read more about honored COSAM faculty
Changing of the Guard — Retirements and New Recruits
The college welcomed 10 new tenure-track faculty members this fall and said goodbye to some familiar faces.
Find out who's new and who retired
Science and Math in the Community
Elementary Students Learn by Doing Science on Campus
Shattering frozen roses, making rockets and exploring the Cal Poly campus were just a few of the activities on the list for students who attended Cal Poly's Learn by Doing Lab Science Summer Camp.
Begun in 2008, the camp brings under-represented students from Pacheco Elementary School to campus for some hands-on science and a look at college life. "These are kids that are picked carefully by the counselor because they'll benefit from extra attention," said Seth Bush, associate professor of chemistry and Learn by Doing Lab program director.
Read more about Learn by Doing Science Summer Camp
Math Academy Brings Hands-on Math to High School Students
This summer, two mathematics professors taught 18 high school students to get excited about math. Elsa Medina and Amelie Schinck-Mikel led the first-ever Math Academy for teachers and students from Santa Maria and Pioneer high schools.
The week-long program introduced students to a new way of doing math. The group used a hands-on approach to algebra and geometry, drawing pictures and building models to help them discover solutions.
Read more about the Math Academy
Read coverage in the Santa Maria Times
Professor Helping Teachers Prepare for New Math Standards
For the second year, Mathematics professor Kate Riley has received a $250,000 Improving Teacher Quality (ITQ) grant from the federal government. The grant funds teacher preparation for the upcoming nationwide standards for K-12 mathematics, called the California Common Core State Standards (CCSS), which were adopted in August of 2010. The state plans to start testing students based on the standards in spring 2014.
The grant allows Riley to continue leading monthly workshops for 34 fifth- through eighth-grade teachers from the Santa Maria-Bonita school district. The purpose of these workshops is to help inform teachers of the new California CCSS and to enhance teachers' conceptual understanding of the mathematical ideas aligned with the new standards. 
Read more on the ITQ grant
Workshop Helps Elementary Teachers Bring Science Into Classroom
Science teachers just want to teach better science, and the 72 elementary school science teachers who participated in the Central Coast Science Project (CCSP) Summer Institute were learning to do exactly that. Partnering with Cal Poly faculty members, the teachers spent two weeks making toothbrush fossils and exploring similar activities that bring discovery-based science into their third- through fifth-grade classrooms. Participating teachers came from 10 districts stretching from Monterey to Guadalupe.
CCSP is part of the California Subject Matter Project, which provides professional development programs for teachers. The Summer Institute is also funded by the California Math and Science Partnership, a federal grant administered by the California Department of Education.
Read more about CCSP
Real World Research
Future Teachers Spend Summer Doing Research at National Labs
Almost 70 future high school and middle school teachers became scientists-in-training at 14 national laboratories and research centers this summer. They worked on experiments ranging from why there used to be water on Mars to identification of genetically distinct ocean species.
The students were part of the CSU-wide STEM (science, technology, engineering and math) Teacher and Researcher Program (STAR). Cal Poly manages the internship program, which gives aspiring science and math teachers the experience they need to teach hands-on science.
Read more about the STAR Program
School of Education Professors Produce Video to Help Women Succeed in STEM
Two professors in the master's program in counseling and guidance have produced a video designed to help women excel in science, technology, engineering and math (STEM) majors. In the 12-minute video, eight female Cal Poly grads tell their stories of what it took to succeed.
Professors Steven Kane and Jodi Jaques saw the STEM-focused student body at Cal Poly as a rich source of experience and knowledge. With two highly sought-after grants from the American College Personnel Association Leadership Foundation and Student Affairs Administrators in Higher Education, they set out to mine those experiences for strategies that could be used to help other students.
Read more on the Making the Grade video
Watch Making the Grade video
$250,000 NSF Grant Funds Telescopes for Research and Community Use
A free 11-inch telescope may be coming to a rural California town near you thanks to an NSF grant recently awarded to Physics Professor John Keller. The $233,000 grant, which Keller will share with Marc Buie of the Southwest Research Institute (SWRI) in Boulder, Colo., will bring 10 telescopes to towns stretching along the California-Nevada border.
Keller and his collaborators at SWRI want to learn more about Kuiper belt objects (KBOs) — large, frozen bodies that orbit the sun beyond Neptune. The most famous KBO is the former planet Pluto. Not much is known about KBOs because they are so far from the sun. This experiment will measure their sizes, which could in turn help scientists understand their physical composition.
Read more about citizen scientists and KBOs
Physics Professor and Students Study Gamma Rays, Beginning of Universe
If you want to learn about the beginning of the universe, head to Arizona. That's where the VERITAS (Very Energetic Radiation Imaging Telescope Array System) telescope configuration is being used to study gamma rays. Gamma rays are created from particle interactions near black holes. The energies of the particles around black holes is similar to the energies of particles that existed shortly after the Big Bang, so if scientists can understand what's happening around black holes, they believe they'll be able to draw a clearer picture of how the universe began.
Read more about VERITAS
Today's Students
Math Major Celebrates Curiosity Landing, Does Research at NASA's JPL
For senior math major Jenna Murphy, Mars came a little closer this August when the Curiosity rover touched down. Murphy spent the summer at NASA's Jet Propulsion Laboratory (JPL), where the rover was developed, as part of the STEM Teacher and Researcher (STAR) Program.
Though Murphy didn't work on the Mars Science Lab, the mission that includes Curiosity, she got to experience the landing celebration close-up. At the convention center in Pasadena, Murphy watched the rover's progress with a number of people who had worked closely on the mission.
Read more about Murphy's summer at JPL
Students Design Landscape for Center for Science and Mathematics
The new Warren J. Baker Center for Science and Mathematics is providing Learn by Doing opportunities before it has even been completed.
The area between the remaining wing of Building 52 and the new center, now home to a big pile of dirt and a lot of construction equipment, will become one of the campus's central open spaces. This summer, the landscape architecture students in Professor Omar Faruque's Design Theory and Exploration Focus Studio took a shot at designing the space.
Read more on the students' designs
Alumni
Biological Sciences Grad Talks Health for the Obama Campaign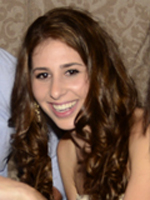 "We do it all," Cal Poly's Biological Sciences Department claims, and 2010 graduate Rachel Hornstein certainly proves the point.  While pursuing her graduate degree in health policy and management at UCLA, she applied to work for the Obama campaign's health policy team and has been with the campaign since June 2012.
Read the interview with alum Rachel Hornstein
Honored Alumnus a World Leader in Infrared Technology
James T. Woolaway (second from right, B.S., Physics, 1981) has been named the 2012 College of Science and Mathematics Honored Alumnus. The annual awards, hosted by the Cal Poly Alumni Association, honor an alumna/alumnus from each college during Homecoming Weekend.
Woolaway spent his career in the field of infrared technology and recently retired from FLIR Systems as vice president for IP and Technology. He is responsible for many circuit-related inventions and numerous patents in the infrared field. The major improvement he contributed to the field was the development of infrared detectors that operate at room temperature, without the need for cooling.
Woolaway's inventions are used to increase safety in cars and boats and are also found in security devices and unattended aerial vehicles. More recently, Woolaway has expanded the reach of his technologies to the realm of energy efficiency. Among other uses, the infrared devices can quickly and inexpensively locate holes in home insulation.
Alumni Notes
Let us know what you're up to, and we'll share it with your classmates in an upcoming edition of the newsletter.
Submit an Alumni Note
Coming Up
Tour the Cal Poly Pier Nov. 17
Bring the kids and the camera and tour the Cal Poly Pier in Avila Beach on Saturday, Nov.17, from 9 a.m. to noon.
Interactive displays on the pier for the fall open house event will include special touch-tanks full of live marine creatures, microscopes for viewing ultra-small sea creatures, a "Discover SCUBA" experience and more.
Read more about the pier open house
Cal Poly Hosts Regional American Physical Society Conference
Physicists from California and Nevada will gather at Cal Poly Nov. 2-3 for the annual meeting of the California-Nevada section of the American Physical Society. Presentations will cover a range of topics, from the technical to the practical. Students will also have the chance to present to and mingle with experts in the field and to learn what a career in physics is all about.
Cal Poly physics and electrical engineering alumnus Brian Hackney, now a correspondent with KCBS in San Francisco, will speak on careers outside of physics.
Cal Poly faculty members and students will present with Physics Professor Pete Schwartz offering a plenary session on appropriate technologies in Guatemala.
Read more about the conference
Related Content