Cal Poly Physics Demonstrations Wow Middle School Students
April 23, 2013
Contact: Karl Saunders
805-756-1696; ksaunder@calpoly.edu
SAN LUIS OBISPO — How better to celebrate Pi Day — March 14 — than with three Cal Poly physics students and two cars full of science experiments? That's what Santa Lucia Middle School in Cambria did with the help of Physics Professor Karl Saunders and three of his students.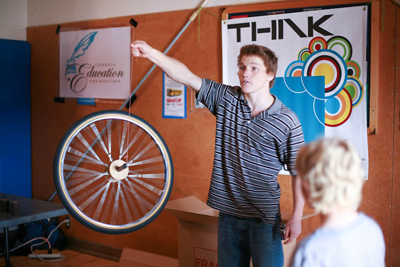 Physics major Zech Thurman demonstrates rotation at Santa Lucia Middle School.
Photo by family and event photographer Debbie Markham of Cambria.
Expecting to put on physics demonstrations for the 50 students in the after-school science program, Saunders and his students arrived to find 120 excited seventh- and eighth-graders from a student body of 170.
"I was amazed at how enthusiastic they all were, " Saunders said.
The students were treated to demonstrations on motion, light, electricity, vibrations and sound, among others. In true Cal Poly style, the demonstrations were all hands-on. Students had a chance to make a stool rotate by spinning a bike wheel, move an electric current with their finger, and see how vibration is transferred by rubbing the handles of a bowl and watching the water inside literally jump.

Students move an electric current with their fingers.
Photo by family and event photographer Debbie Markham of Cambria.
"For a lot of the students, it was their first time seeing any demonstrations like this," Saunders said.
The middle school students weren't the only ones who learned by doing. "I actually learned a lot about teaching," said physics major Zech Thurman. "It was interesting to realize I actually know a pretty good chunk of physics, enough to demonstrate certain general concepts to younger students."
"Sometimes while engrossed in our upper division, math intensive classes, we physics majors don't take the opportunity to sit back and actually reflect on the beauty of what we're learning," said Kara Zappitelli. "Seeing how excited kids get about science is really inspiring."
Related Content