13th Annual College of Science & Mathematics Student Research Conference
Please note: This article refers to the 2013 conference. Registration information for the 2014 conference will be available  in late April. The 2014 conference will be May 15-16.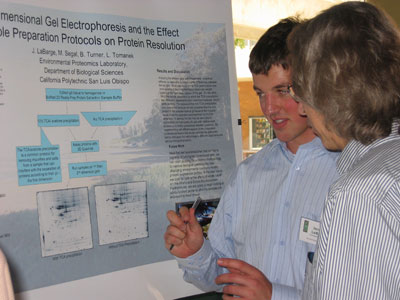 May 13, 2013
Contact: Elena Keeling
ekeeling@calpoly.edu
SAN LUIS OBISPO -- Cal Poly's College of Science & Mathematics is hosting its 13th Annual Student Research Conference May 16 and 17. Almost 100 students are presenting posters or talks on topics ranging from organic polymer solar cells to genotype and breast cancer risk to the effects of relocating rattlesnakes. The conference celebrates science and our students. By discussing their faculty-supervised research with inquisitive audiences, our students gain the experience they need to become professional scientists.
Schedule of Events
Thursday, May 16
Poster Reception 5:30 - 7:30 p.m.
Fisher Science Building 33, Room 285 and hallways and lobby
Friday May 17
Oral Presentation Session 1, Fisher 285
Oral presentations schedule for session 1

| Time | Speaker and Topic |
| --- | --- |
| 8:30 a.m. | Nick McConnell (advisor K. Meisenheimer, Chemistry & Biochemistry): The synthesis and reactions of the bacterial quorum sensing molecule, para-coumaroyl-L-homoserine lactone |
| 8:45 a.m. | Carolyn Ewers (advisors M. Moline & D.E. Wendt, Biological Sciences): The grass is always greener…where? Maximizing conservation efforts for eelgrass (Zostera marina), an important marine habitat, in the face of climate change |
| 9 a.m. | Neil Redeker (advisor S.J. Zhang, Chemistry & Biochemistry): Core-shell nanocomposites for polymer photovoltaics |
| 9:15 a.m. | Josh Dillard (advisor M. Black, Biological Sciences): E. coli strain demographics and transmission in cattle |
| 9:30 a.m. | Debbie Huang (advisor R. Ottesen, Statistics): Estimating disease-free survival rates for breast cancer patients in presence of missing recurrence data |
| 9:45 a.m. | Julia Cuthbert (advisor D. Gragson, Chemistry & Biochemistry): Observations of the structure of phospholipid monolayers found in milk fat globule membranes using atomic force microscopy |
10 - 11:30 a.m., Poster Session 1, Fisher Science hallways and lobby
Oral Presentation Session 2, Fisher 285
Oral presentation schedule for session 2

| Time | Speaker and Topic |
| --- | --- |
| 11:30 a.m. | Allee Macrorie (advisor E. Kantorowski, Chemistry & Biochemistry): NMR-based kinetics experiments for the undergraduate chemistry laboratory |
| 11:45 a.m. | Michael Wade (advisor P. Fidopiastis, Biological Sciences): The role of OmpU in physiological stress of Vibrio salmonicida and virulence in Atlantic salmon |
| 12 p.m. | Maria Alvarado & Mira Samara (advisor M. Black, Biological Sciences): Source tracking of fecal contamination in the San Luis Obispo Creek |
| 12:15p.m. | Bryan Scott (advisor V. Bennert, Physics): Variation of the broad Hb emission line in a large sample of active galaxies |
| 12:30p.m. | Jennifer Chik (advisor L. Robins, Chemistry & Biochemistry): Expression, purification, and crystallization of I-LtrWI: A homing endonuclease for gene targeting |
| 12:45p.m. | Thomas Bales (advisor C. Strand, Biological Sciences): Quantification of neurogenesis in the telencephalon of the ball python, Python regius |
Oral Presentation Session 3, Fisher 289
Oral presentation schedule for session 3

| Time | Speaker and Topic |
| --- | --- |
| 11:30 a.m. | James Kelley (advisor M. Moline, Biological Sciences): Toilet to the tank: Improving triglyceride production in wastewater microalgae through nitrogen depletion and varying light intensity for the potential use as a biofuel feedstock |
| 11:45 a.m. | Michael Garland (advisor L. Tomanek, Biological Sciences): Identification and mapping of molecular responses to simultaneous stressors in an intertidal crustacean |
| 12 p.m. | Suzanne Nelson (advisor U. Lund, Statistics): NSAIDs, CYP2C9 and UGT1A6 genotype and breast cancer risk |
| 12:15 p.m. | Mike Kim, Connor Fourt & Maureen Smith (advisor P. Schwartz, Physics): Inexpensive solar concentration |
| 12:30 p.m. | Harrison Ewan (advisors J. Hagen & H. Palandoken, Chemistry & Biochemistry): Synthesis of novel oxime ether surfactants |
| 12:45 p.m. | Spencer Herrick & Ryan Blumenthal (advisor R. Echols, Physics): Organic polymer solar cells |
1 - 2:30 p.m., Poster Session 2, Fisher Science hallways and lobby
Oral Presentation Session 4, Fisher 285
Oral presentation schedule for session 3
Time
Speaker and Topic

2:30 p.m.

Jena Nordegaard (advisor L. Vredevoe, Biological Sciences): Tick Borne Relapsing Fever spirochetes in Ornithododoros coriaceus ticks and Odocoileus hemionus columbianus deer from Paso Robles

2:45 p.m.

Kory Heiken (advisor E. Taylor, Biological Sciences): The physiological effects of long-distance translocation on rattlesnakes

3 p.m.

Becky Rowe & Katie Matasci (advisors J. Hagen & H. Palandoken, Chemistry & Biochemistry): Physicochemical characterization of novel oxime ether surfactants

3:15 p.m.

Alex Barbella (advisor E. Himelblau, Biological Sciences): Identifying chromosome rearrangements in the allopolyploid Brassica napus using pyrosequencing

 
Related Content